Talk:TrackPoint
Trackpoint USB keyboard?
I have a French Canadian Trackpoint USB keyboard,
and I'm wondering if I'll need a driver to use its Trackpoint with Linux (Ubuntu 7.04). I did install a driver on my current computer (Windows XP) when I got the keyboard, but maybe I didn't need it...? Or maybe it was for the Trackpoint functionality... I'm really not sure.
I noticed that my keyboard doesn't seem to be even... known about at all. I see that the model # on the back is KPH0035, if that helps anyone.
(No, I am not French Canadian. I covered those different keys with English stickers.)
---
It should work just by plugging it in. Works for my USB trackpoint keyboard, but mine isn't French Canadian. You'll have to try to be sure ;-) [VB]
---
To find out for sure, temporarily boot into Linux using a Live CD like Knoppix. --Thinker 21:35, 11 July 2007 (UTC)
---
Alternative names for the TrackPoint: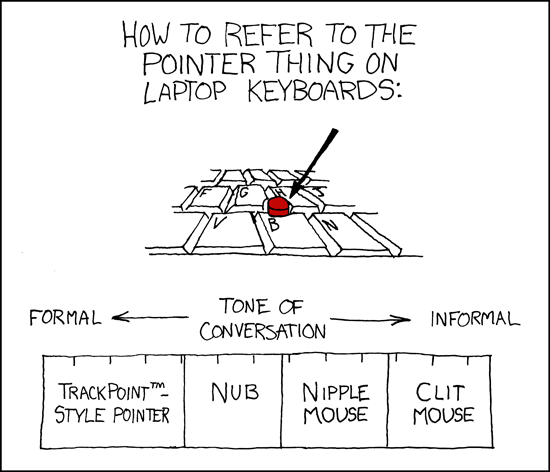 First Trackpoint
Was a convertible mouse/trackball made for the IBM L40SX laptop.
I have one, the text on the box says, if it isn't clear - 'Personal System/2 Trackpoint for Model L40 SX' The manual for the system refers to it as the Trackpoint.